Tennis Lessons in New Orleans, Louisiana
this is a great city nola
08/19/2017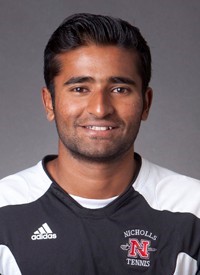 I grew up playing tennis at a very young age in India. After quickly picking up the sport, rose up to being the National Doubles Champion and attained a national rank of 4 and World rank of 252. Won a full scholarship and trained under World famous coach Nick Bo...
read more »
03/03/2015
City Park
If you are a beginner, club player looking to improve their game, or want to introduce your children to tennis contact me to set up a class. I have been playing tennis over twenty years (college tennis NAIA All-American 2008), and have been coaching for 5 years (USPTA certified). 1h private lesson is $60. Group lessons are available as well.Tennis courts are located at City Park/Pepsi Tennis Center (5900 Marconi D...
03/03/2015
Everyone who plays tennis has lost to someone they know they should have beaten, because somehow that playerstumbled uponyour greatest weakness. Let me help you fix those holes in your game. Whether you are such a beginner that you're not sure what a tennis court looks like, or whether you have already issued a standing challenge to the Top 10 pros, allow me, Christoph Bajewski,the chance to help bring your game u...
02/23/2015
Capitano's health and tennis club
Hello, my name is Diego Fiorillo and i've been playing tennis since i was 8 years old.I am now a coach and have been certified by the USPTA for about 2 years. I teach atCapitano'sTennis and Health club. My rates are 40 dollars/hour. So, if your looking to learn or just refine your game give me a call! play tennis, live long. 504-201-9452 Diego
09/23/2011
I've been playing tennis for 20 years and for last 6 years I've been training tennis to all agees. If you want to learn or just to improve your game please give me a call 206-915-0975!!!Priceby arrangement!!Milan
11/30/2010
Metairie CC
Ready for Tennis Lessons?!Tennis is one of the fastest growing sports in America, gives you a great workout, and is a fun sport for connecting with friends. Whether you have never played or you are highly competitive, we will have a blast and help you reach your goals! I played college tennis, coach the Country Day varsity tennis team, and am a Tennis Pro at Metairie Country Club. I am a certified pro with the USP...
Browse other cities in Louisiana