Tennis Lessons in Vero Beach, Florida
06/18/2018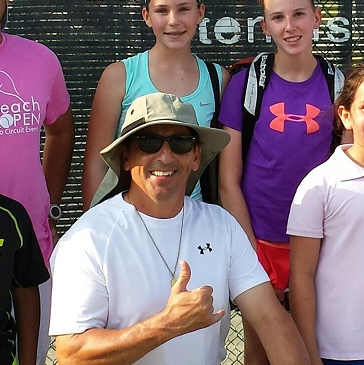 I focus on instructing and inspiring all players and all levels with simplicity and easy to retain tips while enjoying the game of tennis!
read more »
03/03/2015
Having taught for over 7 years at some of the top clubs in the Northeast (Greenwich Country Club, Connecticut) and filling in at Vero's Orchid Island Golf & Beach Club, I now have time and availability on my own courts. Private instruction, group teaching, junior teaching and ladies clinics. All available any day of the week. Call today 772 539 7400 or email me at
[email protected]
today to get your game ...
09/18/2014
Vero Beach, Florida
ADULT SKILLS & DRILLS WITH USTA PRO KEN MACDOUGALLMONDAY & FRIDAY 8:30 -9:30a.m.ADULT SKILLS & DRILLS WITH PRO USPTA WOODY BARRIETUESDAY8:30-9:30a.m.ADULT SKILLS & DRILLSWITH PRO KEN MAC DOUGALLWEDNESDAY8:30-10:00 a.m.HOUR CLINIC FEES: $12 CITY MEMBER $15 COUNTY MEMBER$15 CITY RESIDENT NON MEMBER$18COUNTY RESIDENT NONMEMBERHOUR 1/2 CLINICS FEES:$16 CITY MEMBER$17 COUNTY MEMBER$18 CITY RESIDENT NON ...
09/18/2014
Vero Beach, Florida
City of Vero Beach Recreation DepartmentRiverside Racquet Complex 350 Dahlia Lane, Fl Vero Beach, Florida 32963 (772)231-4787 Gaby Dwyer Tennis Supervisor
[email protected]
Pros: Ken MacDougall USTA Pro (772)563-8846 Woody Barrie USPTA (561) 707-9010 Private Lessons: $35 half hour $60 hour $80 semi-private Call Pro and he will make a court reservation. Check in at the Pro-Shop. We accept credit cards, cash or ...
12/02/2008
Former ATP Tour Official and Teaching Professional now available in Vero Beach for single and group instruction. Any age and any level from beginner to intermediate welcome. Visit my website at www.get-fit-at-home.com and call today on (772) 539 7400 for more details! I have access to har-tru courts or will travel to your own court!
Browse other cities in Florida